A coastal city, home to the largest port in sub-Saharan Africa, Durban is popular for its history and its a top holiday spot. With so much to do and see, a great home to settle in is key to how your vacation (or work trip) goes. We give you a list of top choices here:
For Solo Travelers or Friends That Want To Share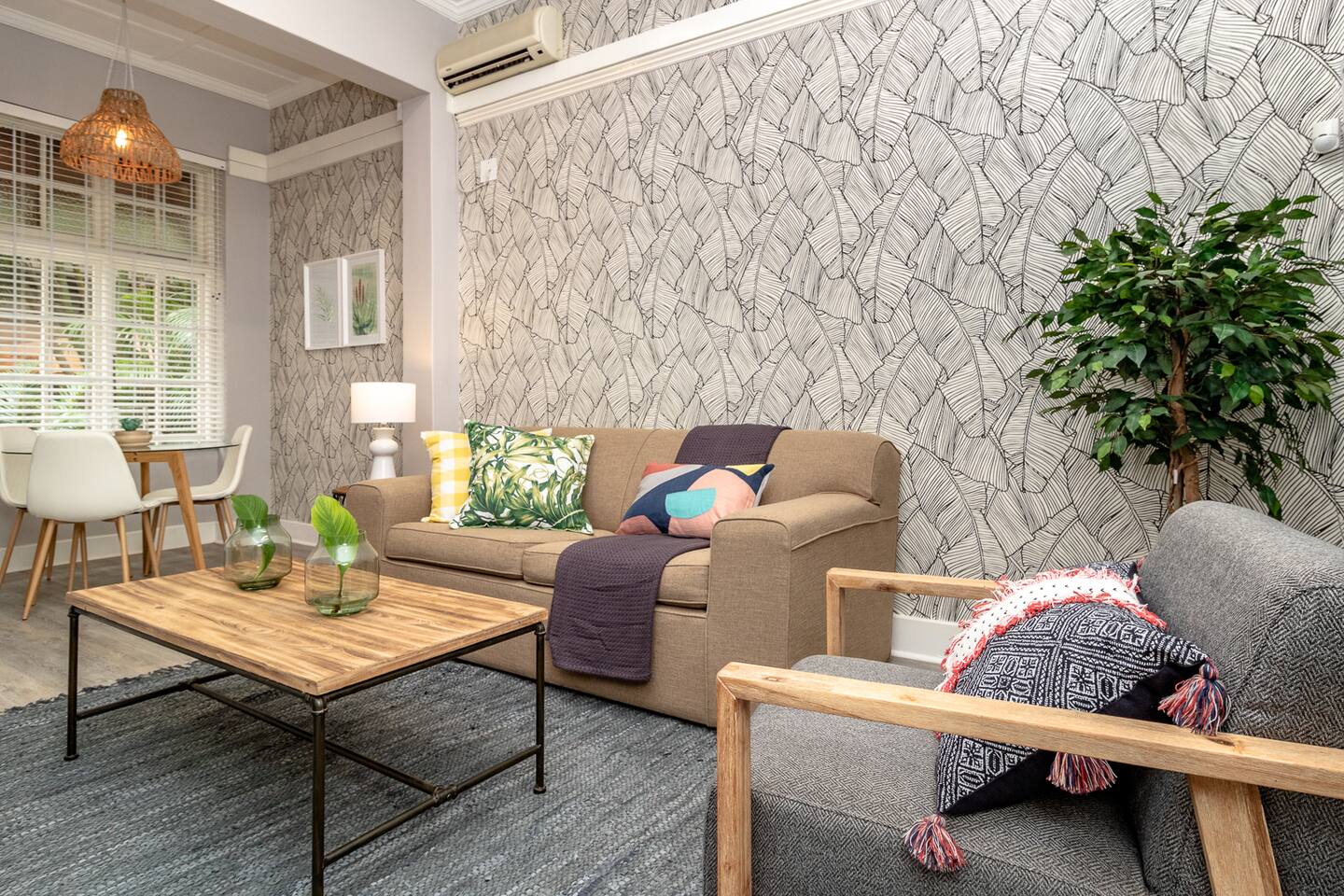 Instaworthy Apartment
This apartment lures you with its location. In Durban, Florida Road's vibes is a delight for many visitors and locals. It's cafes and bars make it the heart of Durban's entertainment hub.
Should you want to explore other places, your Superhost is happy to assist you with bookings for visits to Game reserves or other nearby attractions. It's location aside, the home is tastefully decorated for a comfortable stay, complete with a lounge with Netflix access.
Pros: Air conditioning; WiFi; Netflix; The Location.
Cons: You're not allowed to be loud; No stove
Book Here at $41 per night
---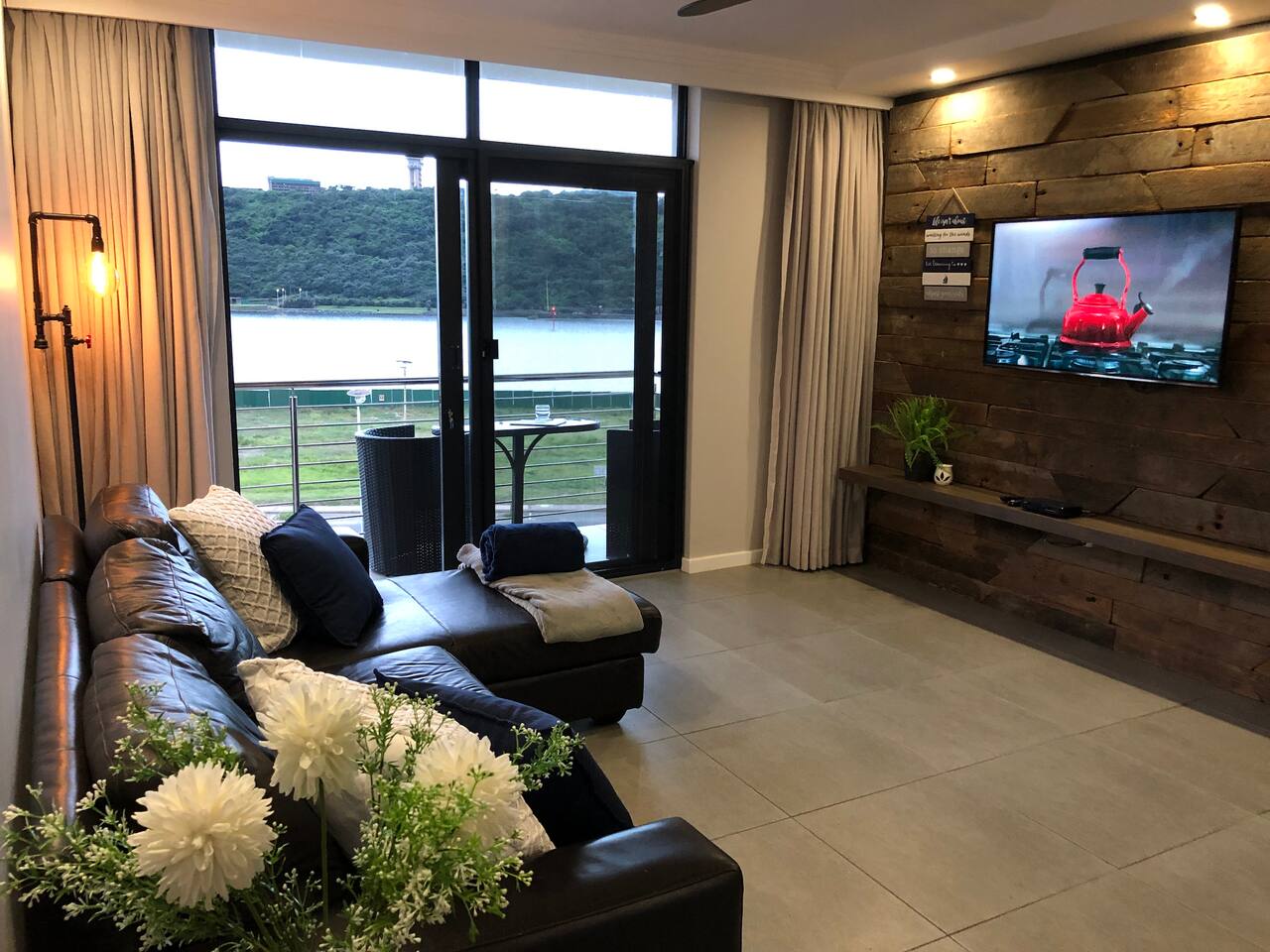 Modern Apartment near the Harbor
This home close to the Port of Durban is the perfect location for Durban explorers. With a view of the harbor, you'd be tempted to take a boat cruise out to sea, or to Cape Town.
Pros: Netflix; WiFi; Privacy
Cons: No parties
Book Here at $44 per night
---
Durban Plus Views
Everyone loves a place with a great view, this Airbnb plus apartment gives you that and more. Located in Durban Point, getting to the beach and best surf areas would not be a problem. You can take short evening strolls and take in the beauty of Durban, visit uShaka Marine World or take a cruise from the Durban Habour and explore other adventures South Africa has to offer.
Pros: Air conditioning; WiFi; It's an Airbnb plus apartment!
Cons: No partying in here
Book Here at $57 per night
---
For Romantic Couples and Small Groups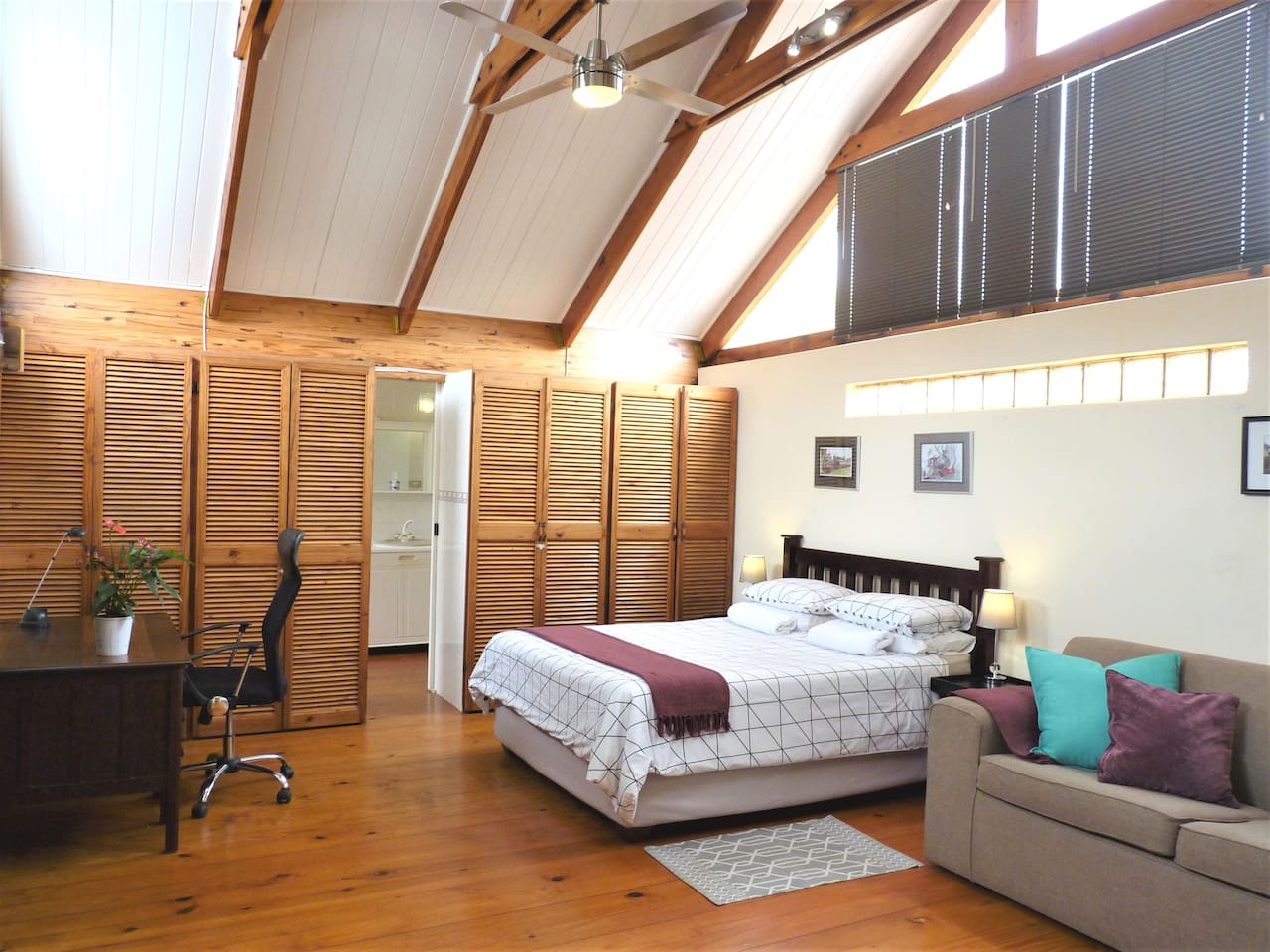 Loft in Berea
This loft-style apartment offers a spacious cozy home. It's a great base to explore Durban. It's close to several of Durban's most popular tourist attractions. And if you're coming with kids, it's also perfect, there's a play area available for them.
Moses Mabhida Stadium is a worthwhile place to visit, you can try out the SkyCar ride to the top of the stadium arch or get in some work out on the Adventure Walk.
Pros: WiFi; Pool; Air conditioning; BBQ facility
Cons: No parties; Potential for noise (but it's just kids)
Book Here at $35 per night
---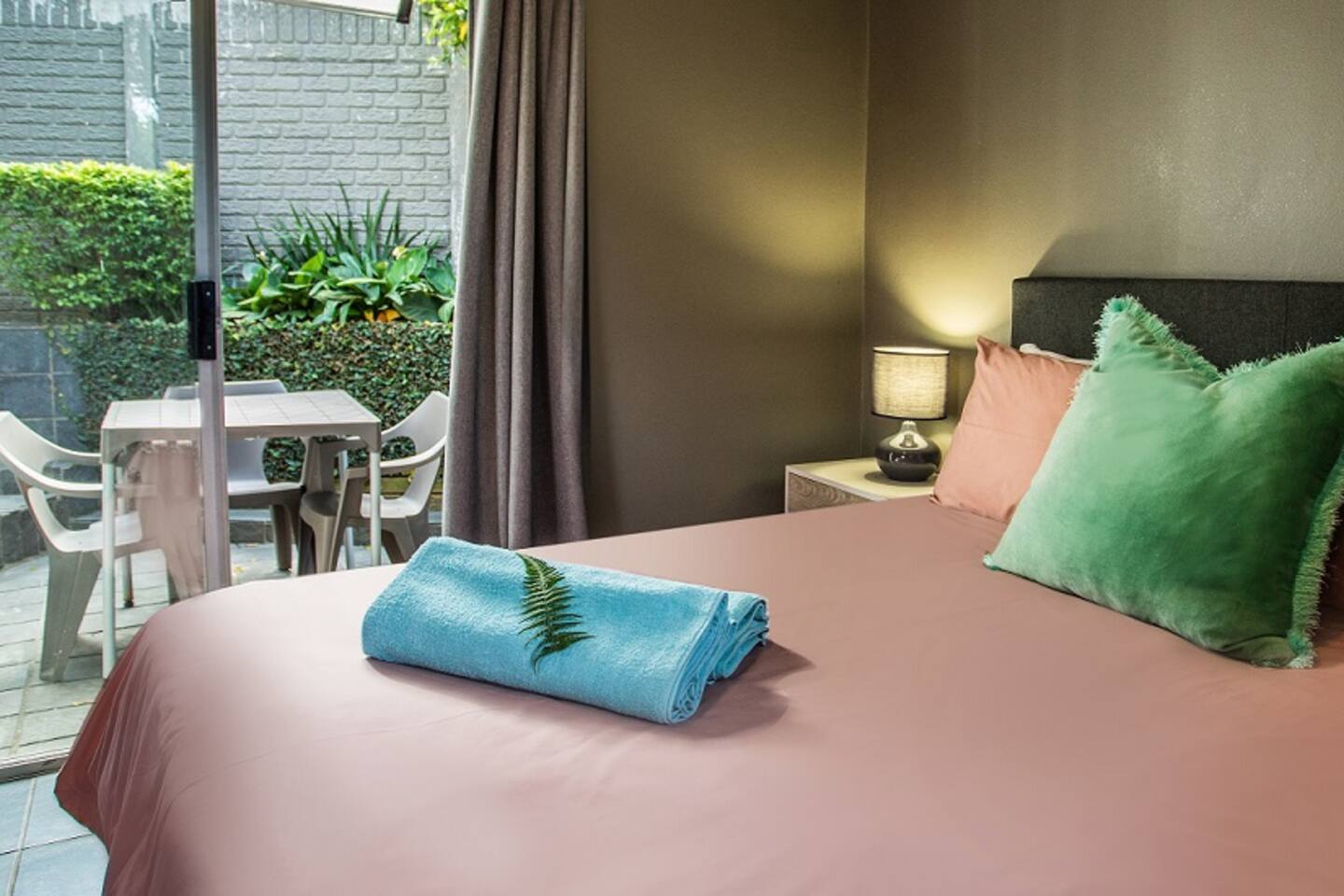 Canopy Cottage
A little cottage in the serene Glenwood neighborhood. Centrally located with easy access to the city center, it's proximity to beaches and other amazing spots is a reason to choose. Across the road is the Pigeon Valley Nature Reserve where you can enjoy picnics, strolls and explore the diversity of this region's animals.
Pros: Pool; WiFi; Proximity to nature reserves and other amazing spots in Durban
Cons: No parties; pets live on the property (but that doesn't have to be a problem)
Book Here at $41 per night
---
Luxury Waterfront Apartment
The home has a relaxed vibe, perhaps because every room gives you a picturesque view of the beach. It's so well equipped, you only need to bring yourself.
Pros: Air conditioning. The view. Proximity to amazing tourist spots
Cons: No parties allowed
Book Here at $37 per night
---
Amazing Spots for Groups of 6 or More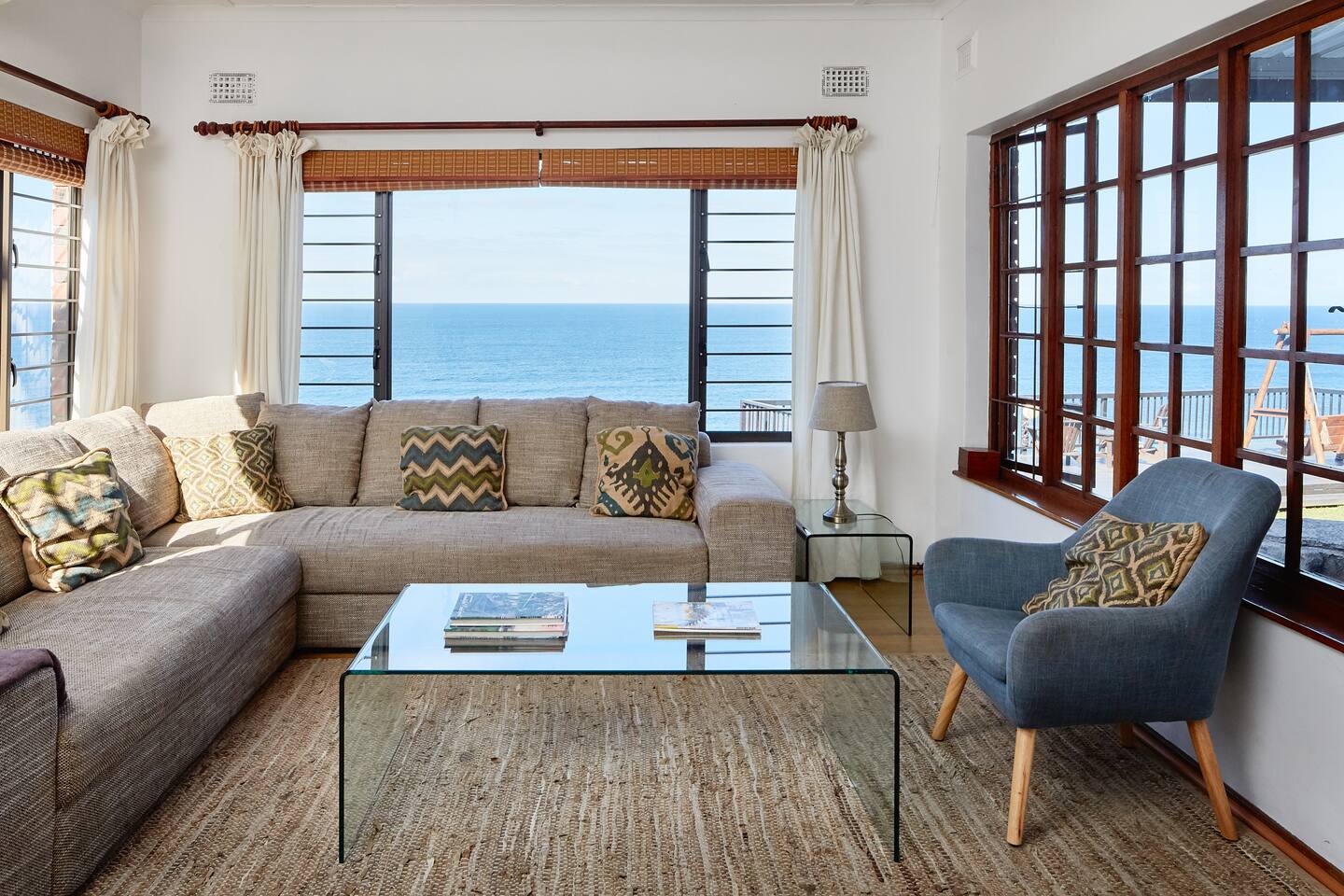 Garvies Surf House
This villa is the ideal vacation home for a family or group of friends. It's right on Garvies beach and offers you the perks of a beach house and more. You can watch dolphins on the outdoor patio, take a dip in the pool or enjoy sundowners with the group in the bar.
Pros: The View. Well Equipped.
Cons: Not ideal for children. You'll need to rent a car or use ride-hailing service.
Book Here at $157 per night
---
Safari Game Park Villa
Vacation like you're going on a safari in this villa. It's a wonderful place to enjoy nature while having a modern comfortable home to retreat to. The villa is in a Safari game park, and you'll get first-hand access to the animals in the reserve, some will even graze your lawn.
With an outdoor pool, BBQ grill and a ton of space to hang out, you'll surely have an exhilarating experience here.
Pros: Access to nature
Cons: No TV access ( but that just means you have more time bonding)
Book Here at $146 per night
---
Umhlanga Upmarket
Perfectly placed in Umhlanga, a resort town along the Indian Ocean coastline, this villa is the getaway you may not know you need. Flanked by a garden and a pool, the house offers you enough spots to relax and unwind.
The indoor of the home itself is fully furnished with all the amenities you will need.
You can catch up on a little bit of work in the study too. But there's too much fun stuff to see in Umhlanga and Durban city, you'd forget about work.
Pros: WiFi; Pool; Air conditioning
Cons: No parties
Book Here at $147 per night
---
Budget Airbnb
Okavango Views
This private room places you right in the middle of Durban's beauty. Close to Durban's major attractions, including one of the largest malls in Africa - Gateway - with its varieties of stores and restaurants; it is also home to the highest fountain in Africa.
With the beauty of Durban sprawled out from the garden, you'd take the bait and want to venture out.
Want something daring? You can try swimming with sharks nearby.
Pros: WiFi Pool; Air conditioning
Cons: No parties or guests allowed
Book Here at $21 per night
---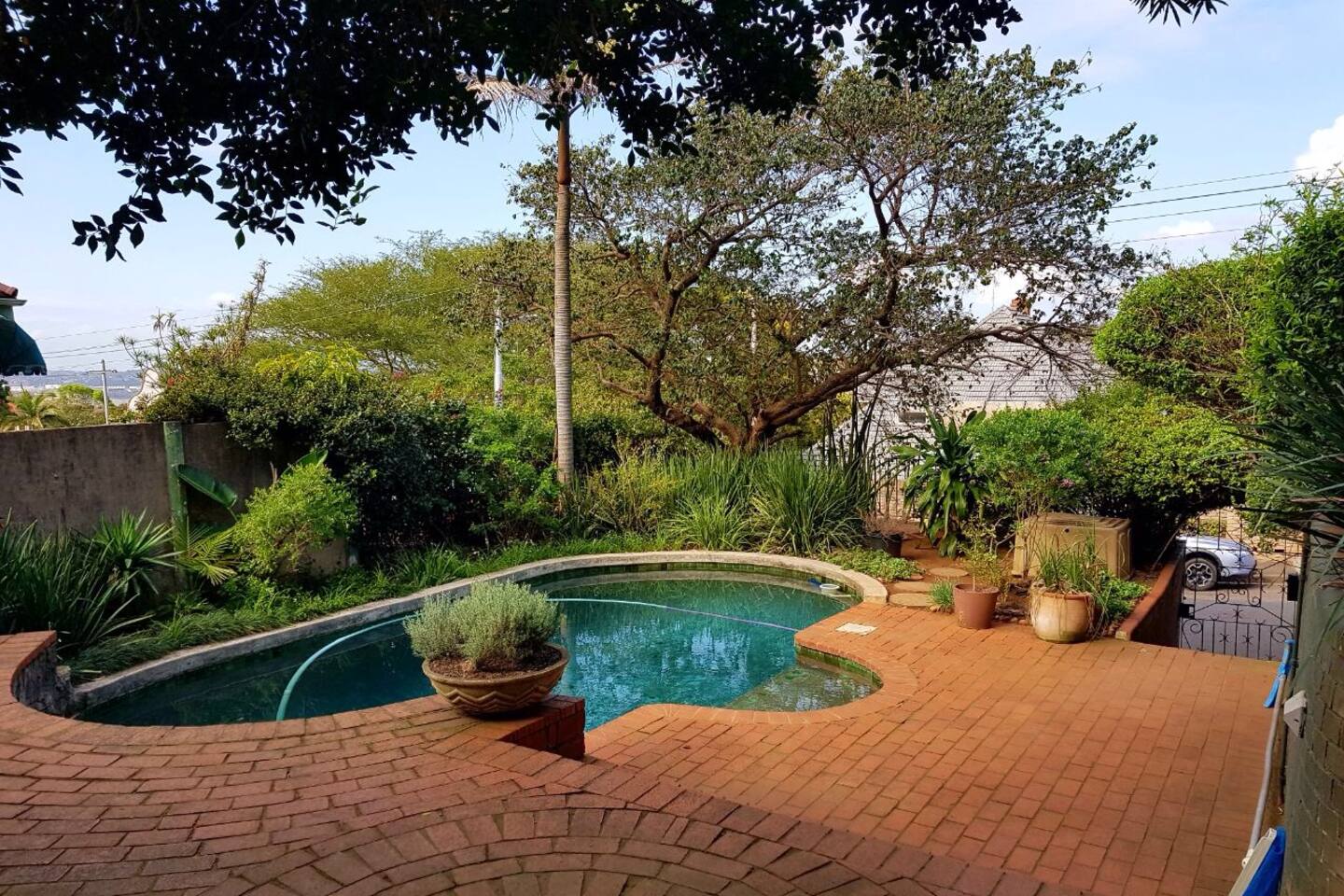 Glenwood Studio Cottage
Enjoy rural life with modern conveniences in this cottage. A hideaway from the hive of activity in the city, but not too far away for your Durban adventures. Surrounded by luscious greens and a pool, you'll have a relaxed stay here
Pros: WiFi; Pool; Air conditioning
Cons: No parties; No kitchen
Book Here at $17 per night
---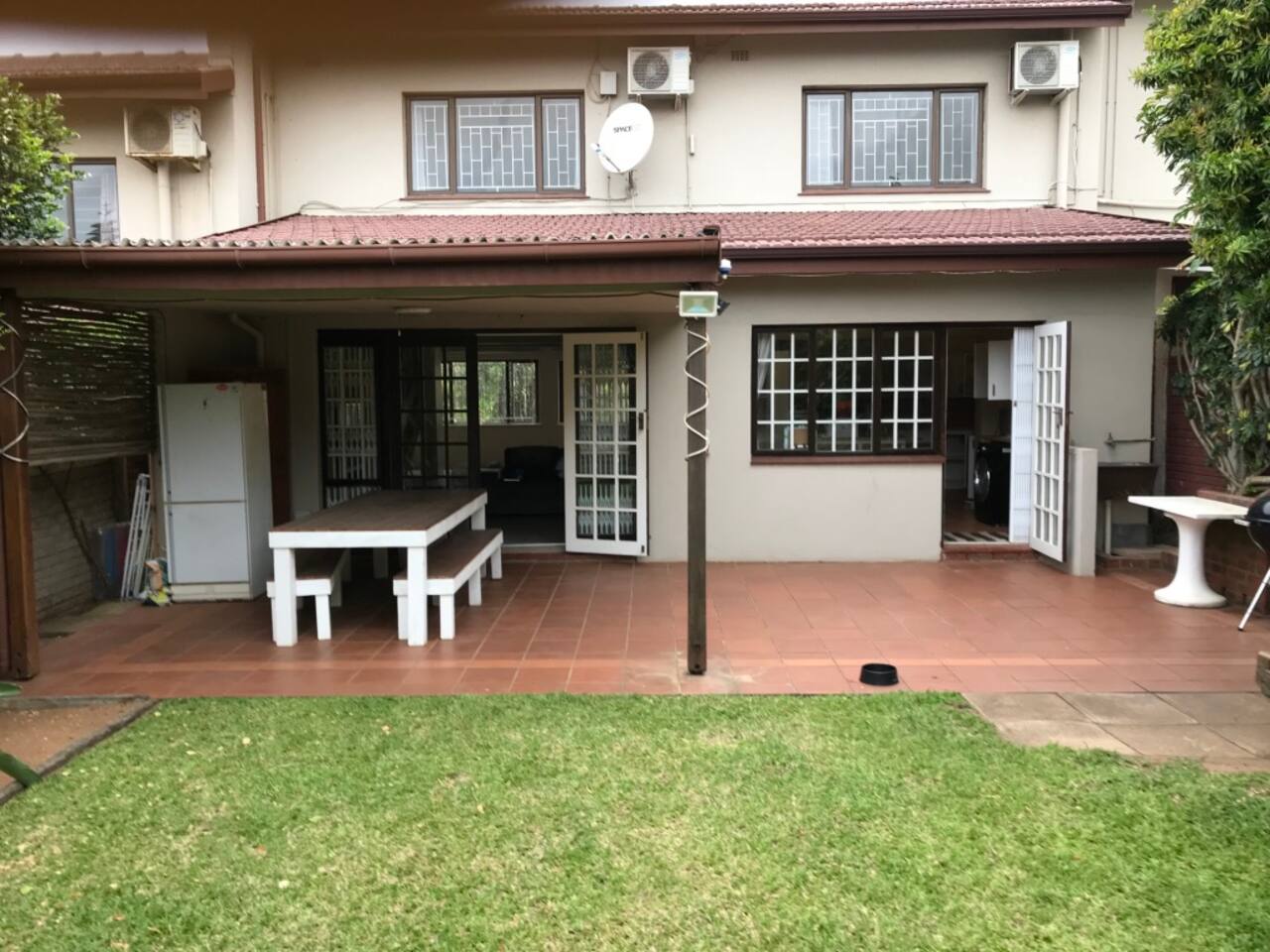 Ballito Townhouse
This duplex is in Ballito, nicknamed Dolphin coast. It's right across the road from Spar, and walking distance to other greats spots - parks, golf courses, beaches.
Ballito has numerous activities and adventures to choose from, from swimming and surfing beaches to reptile parks and golf courses, you'll be engaged. If you're in town at the right time, you may also catch the Ballito Pro surfing competition.
Pros: Garden; Pool; Air conditioning; Privacy
Cons: It's not in the quietest part of town
Book Here at $32 per night
---
There's so much more to see and do in South Africa, we breakdown the best Airbnb homes where you can fully enjoy the culture, here, and a suggestion of tours to immerse yourself in the experience, here.