Cape Town, South Africa is one of the most beautiful cities in the world. It opens you to a world rich in adventures. The winery, scenic views of its mountains and beaches, and its rich history and art scene keep your experience thrilling. But what are your options for the perfect temporary homes to enjoy the Cape Town experience? We give you our top choices here:
For Solo Travelers or Friends That Want To Share
Sunny Central Apartment
This stylishly decorated apartment is right in the middle of your Cape Town adventure. On the balcony, you get great view of Lion's Head Mountain and Signal Hill, where we recommend you enjoy a paragliding adventure. The glass doors and plant decor gives the rooms a natural feel. It's also in a great location with easy access to the best restaurants and cafes.
Pros: Great Location. Privacy
Cons: No Parties. No air conditioning
Book Here at $32 per night
---
City Retreat with Rustic Accents
A private house in the center of town is a perfect retreat; quiet enough to enjoy your alone time, and close enough to the amazing spots. This Airbnb plus apartment has everything you need in a home, including a garage. It's close to the V and A Waterfront, one of the most visited places in South Africa. From the food market to museums to an aquarium, you'll have plenty to experience in Cape Town.
Pros: Privacy. Has everything you need.
Cons: No parties. No air conditioner
Book Here at $39 per night
---
Art Deco Apartment
Right in the middle of the city, seek refuge in this art deco block. It has everything you need to enjoy a great stay and feel right at home, including ingredients to make a great meal. Get in some work out climbing the stair or in the building's gym.
If you're a foodie (or not), give your taste buds a treat by going on a Cape Town food excursion.
Pros: Pool. Easy to get transportation to other places
Cons: No parties. Not for you if you want dead silence, you can hear the city
Book Here at $55 per night
---
For Romantic Couples and Small Groups
Chic Penthouse
A little corner of peace on the slopes of the iconic Table Mountain. With views of table mountain on one side, and the city bowl on the other, this chic loft in the Vredohoek suburb gives you access to the city, but shelters you away from the frenzy. It's the perfect base for exploring the city!
The glass frames in the living room allow natural light to flow into the space. On the terrace, you can dine while overlooking the scenic city or enjoy a plunge in the private pool.
Pros: View of the mountain. Terrace. Private pool. BBQ grill
Cons: No parties. Can't invite people over without the host's consent
Book Here at $78 per night
---
Superb Apartment with Rooftop Terrace
This Airbnb plus apartment is perfect for a romantic getaway. Its rooftop terrace is the perfect place to enjoy a delicious dinner with great views of the city. The iconic Table Mountains is nearby, and if you're lucky, you may catch its lights.
For cold nights, there is an indoor fireplace. When it's time to go out, you can explore on a bicycle provided by the host. And if you want to get some work done, the study will be helpful. But we doubt you'll have time for work. There's plenty of activities here: the landmarks of V & A waterfront, the hiking trails of table mountain, and if you're not much of a hiker, take a cable car ride and meditate at the top of the mountain.
Pros: The View. Close to so many amazing spots
Cons: Not for you if you can't stand cats
Book Here at $77 per night
---
Adriatic at Funkey
Camps Bay is Beautiful! It has one of the most beautiful stretches of coast in the world!
The white sand beach of Camps Bay beach, the 12 Apostle Mountain, the posh restaurants and bars, it's made to give you a fulfilling experience. This villa gives you access to all that. But you won't want to rush out of the house either. The bedroom opens up to a terrace overlooking the beach, and you have access to a private pool.
Pros: It's in Camps Bay, a vacation haven
Cons: No parties; Don't plan on bringing your pets with you.
Book Here at $135 per night
---
Amazing Spots for Groups of 6 or More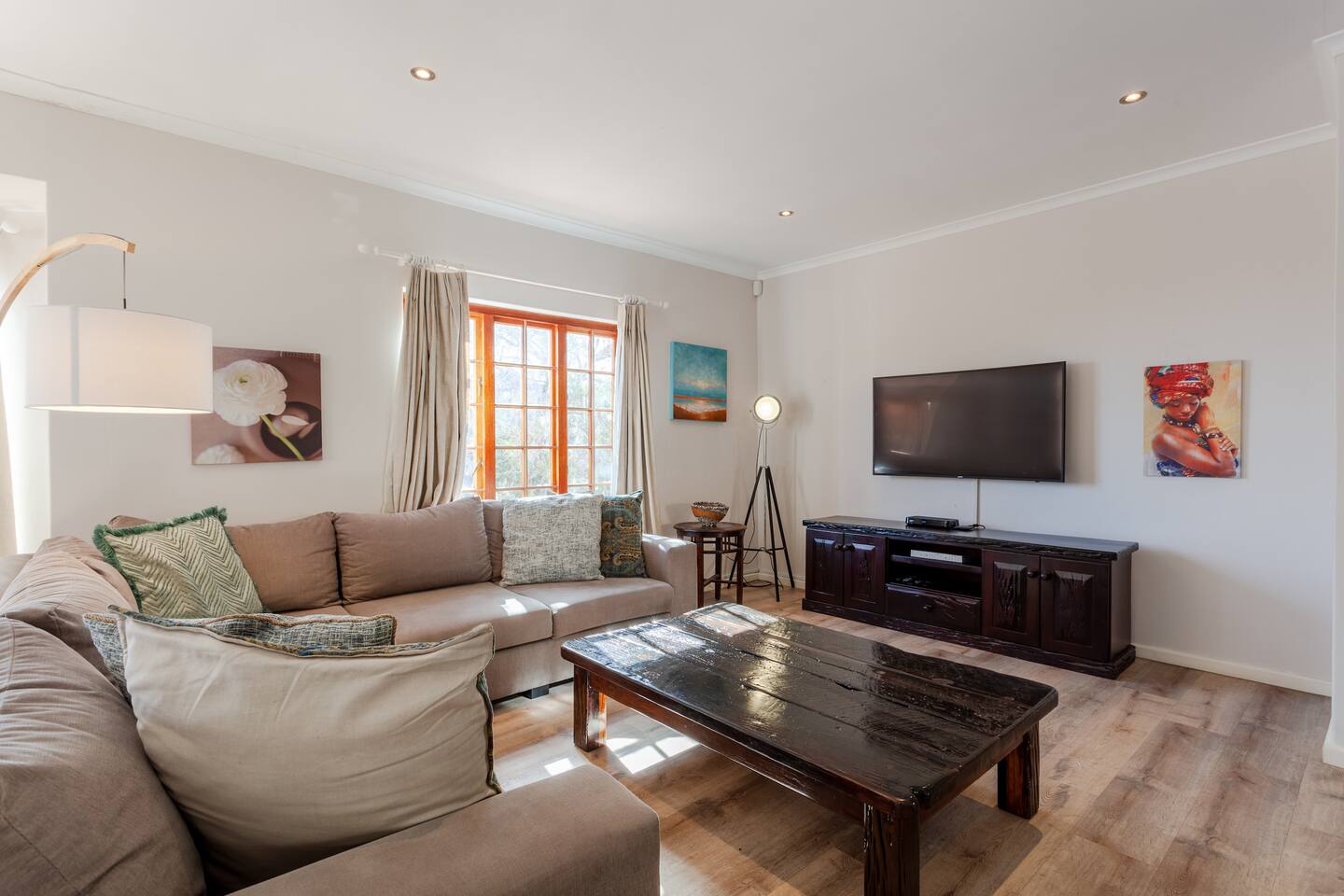 Luxurious Mountain Retreat
Enjoy the serenity of a mountain retreat, the perfect base to explore Cape Town. Located in the Noordhoek-Kommetji area, you'll find getting to other great spots in Cape Town easy. The house is equipped with a gourmet kitchen, heated pool, a patio with scenic views of the beach, and so many perks to make your stay truly enjoyable.
It's close to many other great spots, a short drive to Noordhoek Farm Village and Cape Point Vineyards.
You can also go on a culinary journey in the Cape vineyards.
Pros: Heated Pool; Garden; Cleaning service; BBQ facility
Cons: We haven't seen any
Book Here at $43 per night
---
Luxury Villa in Boulders
A private sanctuary with penguins! It's located in Simon's Town, a historic town, home to South Africa's Navy, where you'll find the statue of Just Nuisance, the only dog ever to be enlisted in the Navy. Go scuba diving and enjoy the clear water and the rich marine life.
On the deck, you'll have the opportunity to watch penguins up close. It's also a quick drive to other amazing spots.
Pros: Indoor fireplace; Proximity to other amazing spots; Cleaning services; Children friendly
Cons: No parties
Book Here at $207 per night
---
Ocean View Villa
Feel right at home in the beautifully decorated artist home. It's located in Kalk Bay, a fishing village. This Airbnb Plus Villa is a deal for a group of friends or family vacation.
You can buy fresh fish at the harbor and grill in the braai with friends or family. Every room is this home offers beautiful views of the ocean, you might even catch the dolphins swimming by.
You can also get a tour of Cape Town's history and museums.
Pros: Indoor fireplace and heater; WiFi; Cleaning service; Pool and Hot tub; Proximity to other great spots
Cons: No parties
Book Here at $203 per night
---
Budget Airbnbs
Upper Sea Point Studio
This studio apartment has the facilities of a luxurious place. A king-sized bed, a balcony where you can relax and enjoy the views of Lion's Head and Signal Hill, Air conditioner, and a kitchenette where you can make yourself some breakfast. Your superhost will provide you with coffee, tea, and milk
Pros: Proximity to other great spots
Cons: Can't take many people
Book Here $24 at per night
---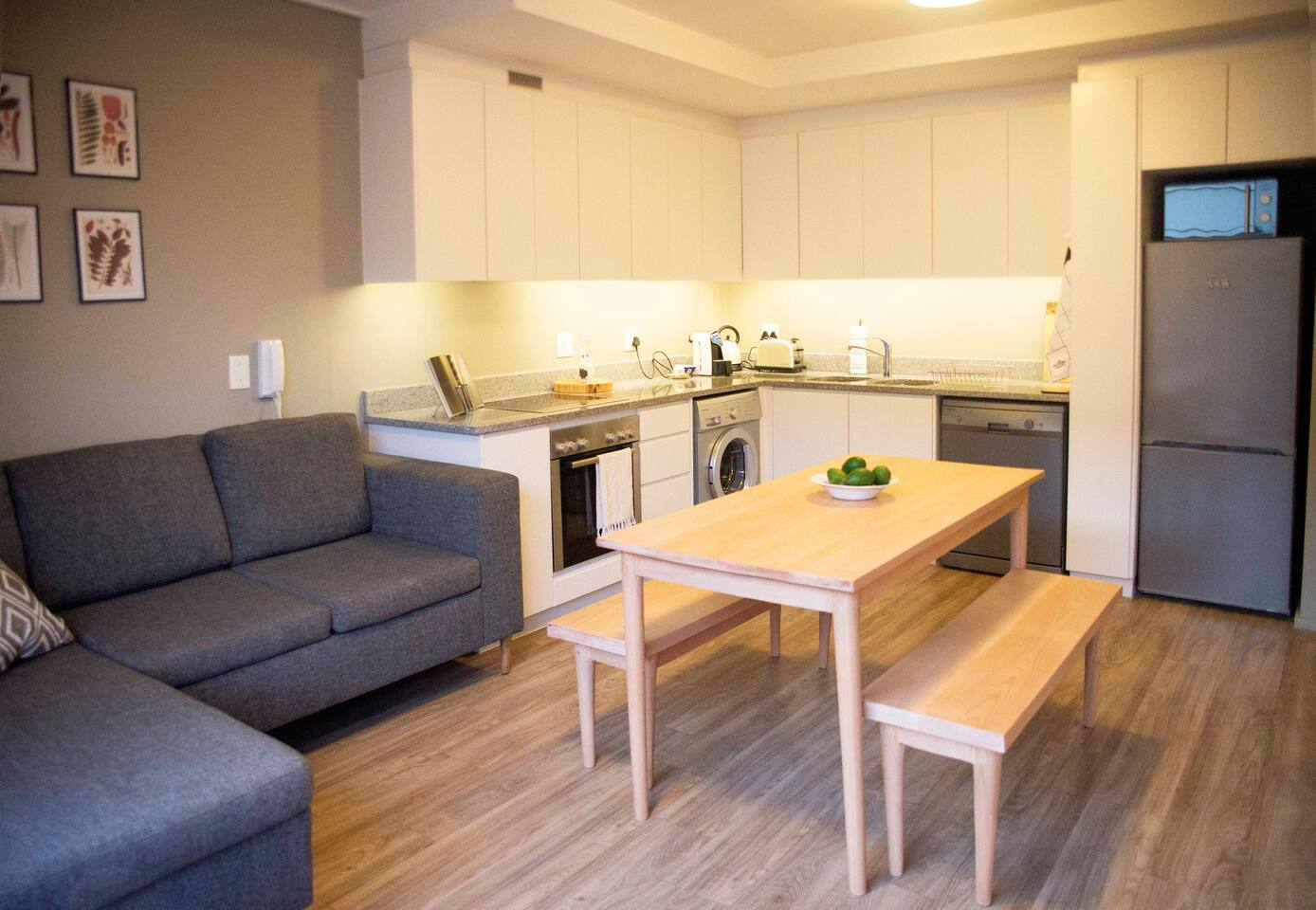 Green Point Comfort
A perfect home for a Cape Town tour. It's a short distance to the major tourist attractions in Cape Town. Close to the beach, Sea Point Promenade, and V & A Waterfront. The apartment itself is furnished to make your stay comfortable.
Pros: WiFi; Pool; BBQ facility
Cons: You can't host friends here
Book Here at $17 per night
---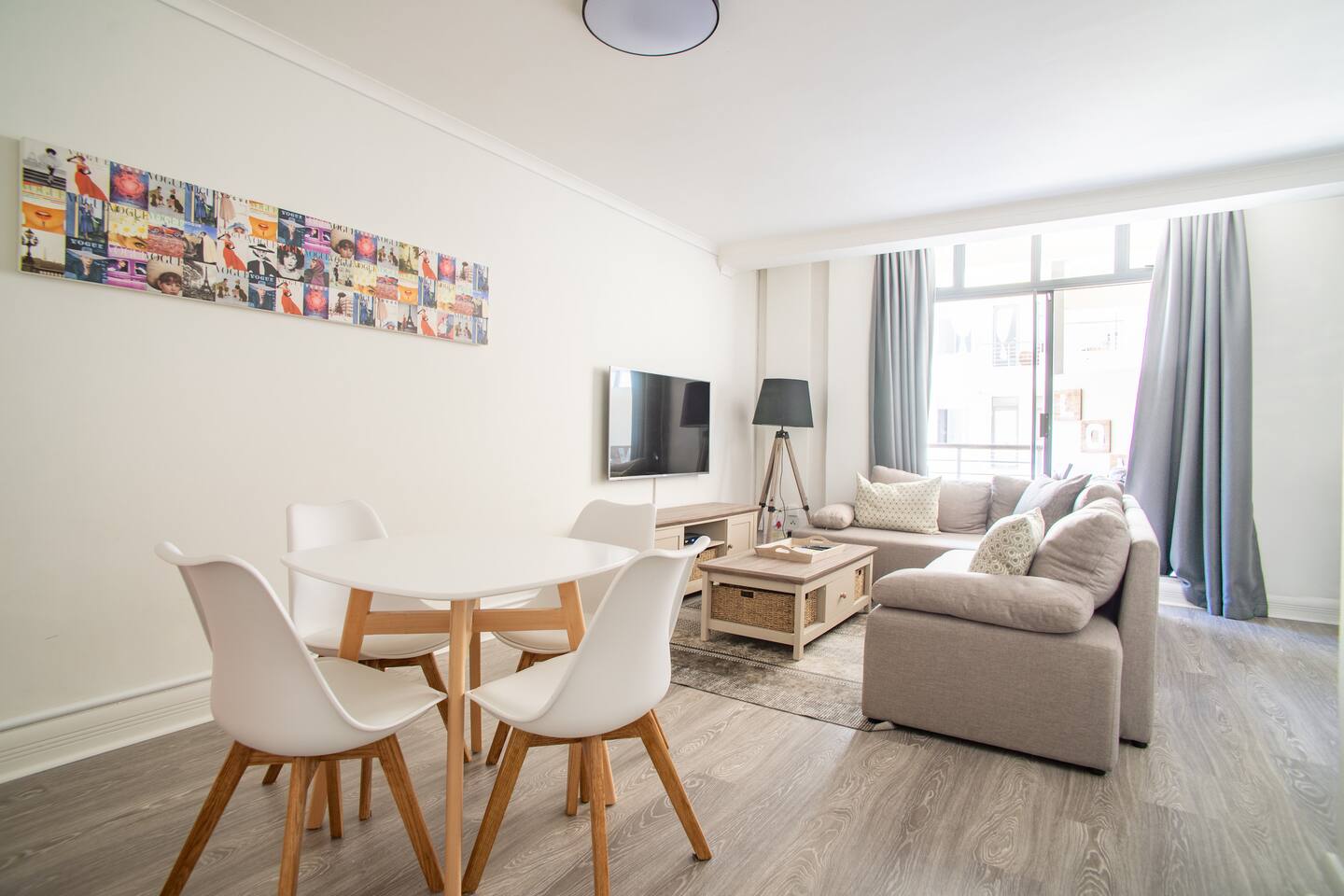 Cape Town Central
This budget-friendly apartment is located in the city center. It's close to Gardens and the V and A Waterfront. The apartment itself has all the amenities necessary for your comfort. A fully equipped kitchen where you can make your meals, pool and gym, Netflix access and high-speed internet.
Pros: Pool; Gym; BBQ facility; Netflix: Cleaning service
Cons: None
Book Here at $20 per night
---
For activities to fully enjoy your stay and immerse yourself in the Cape Town experience, book tours here.