My first trip to Ghana was in 2014. I attended the Lauryn Hill concert with our very first customers, long before we were a marketplace we did small group trips to select destinations where we knew a lot of people, but I digress.
Our trip was one of the most memorable things I've done and since then I've gone back to Ghana more than 20 times. When we decided to truly make Tastemakers a dynamic travel platform that both helped people find dope things to do but also empower creative entrepreneurs, I moved to Ghana for nearly four months. Most of that time was spent discovering all that Ghana has to offer - especially in the capital city of Accra.
I share this so you know that these recommendations are LEGIT. Now, enough of my short bio of life in Ghana here's the guide you've been clicking for:
Getting There (and more specifically, how to get the best flight deal to Ghana)
If you're coming from the US or the Caribbean, take a deep breath, save a glitch fare you are likely going to have to drop a solid "G" (that's $1,000 for the uninitiated) to fly to Ghana. I've been able to dodge the bullet a few times by doing the below:
Travel on an odd day
That means a Tuesday, Wednesday, or Saturday departure, this will help you get the best deals. Oddly enough actually making your booking on these days helps too - something in the magical airfare algorithms works in your favour.
My absolute go-to flight search websites are kayak.com and skiplagged.com (this one is perfect for getting a cool layover).
Accept a long layover and use it to pimp your trip
Non-western airlines (Turkish, Royal Air Maroc, TAP, and Egypt Air) offer roundabout ways to fly to Ghana for under $1,000 (sometimes as low as $650/$700) if you're willing to accept a longer flight route and layover.
My advice - err on the side of the longest version of a layover you can giving yourself the chance to explore a new city. Egypt Air even offers a free hotel room if you opt for a layover that's more than 12 hours - it's nice too.
Go see the Hassan Mosque in Casablanca or the Pyramids of Giza on your way to Ghana. You might be a bit more tired but it'll be worth it in the end.
I'm serious about this, peep me pimping my layover to Accra (with my 10-year-old son and puppy) last year!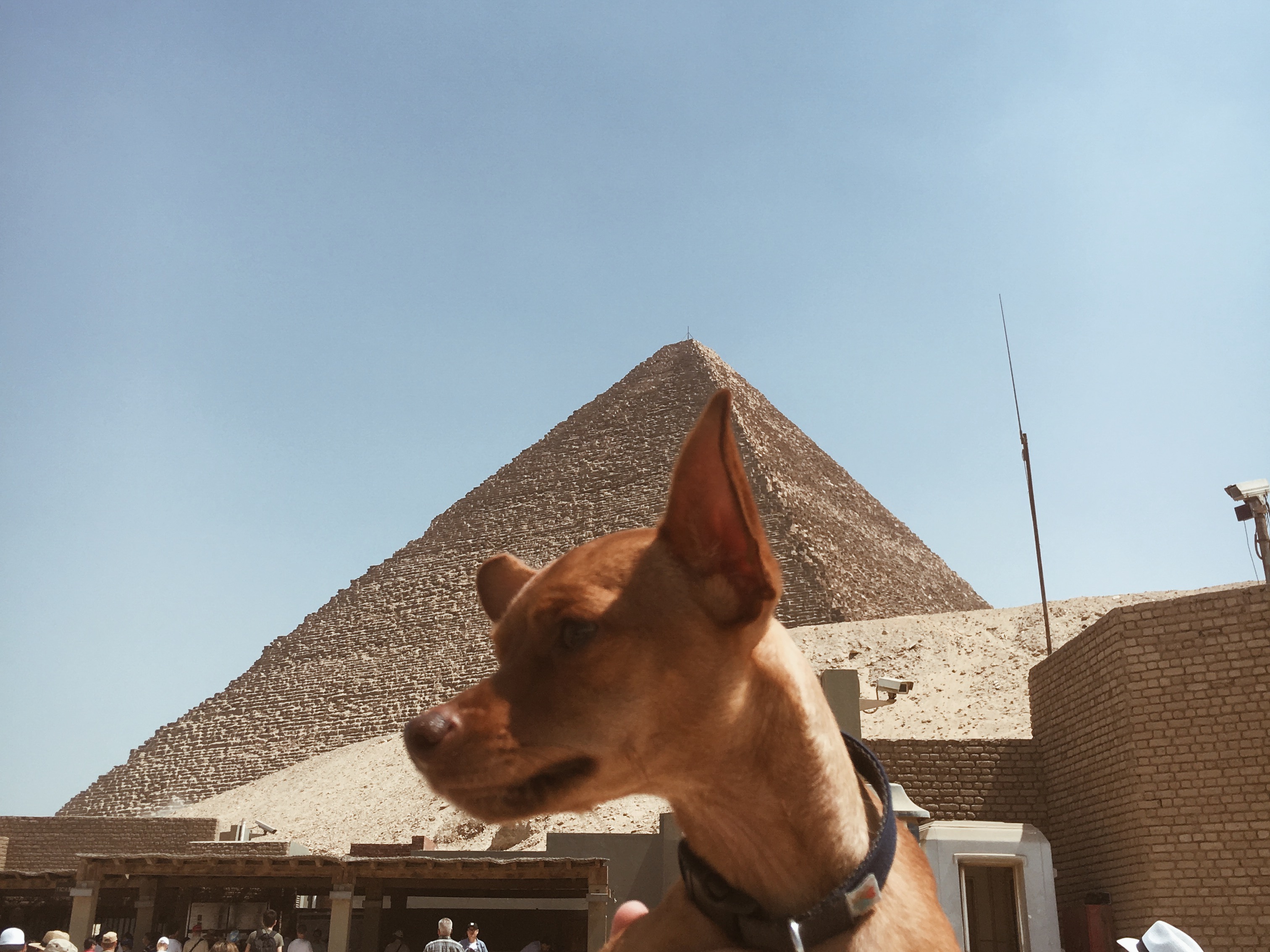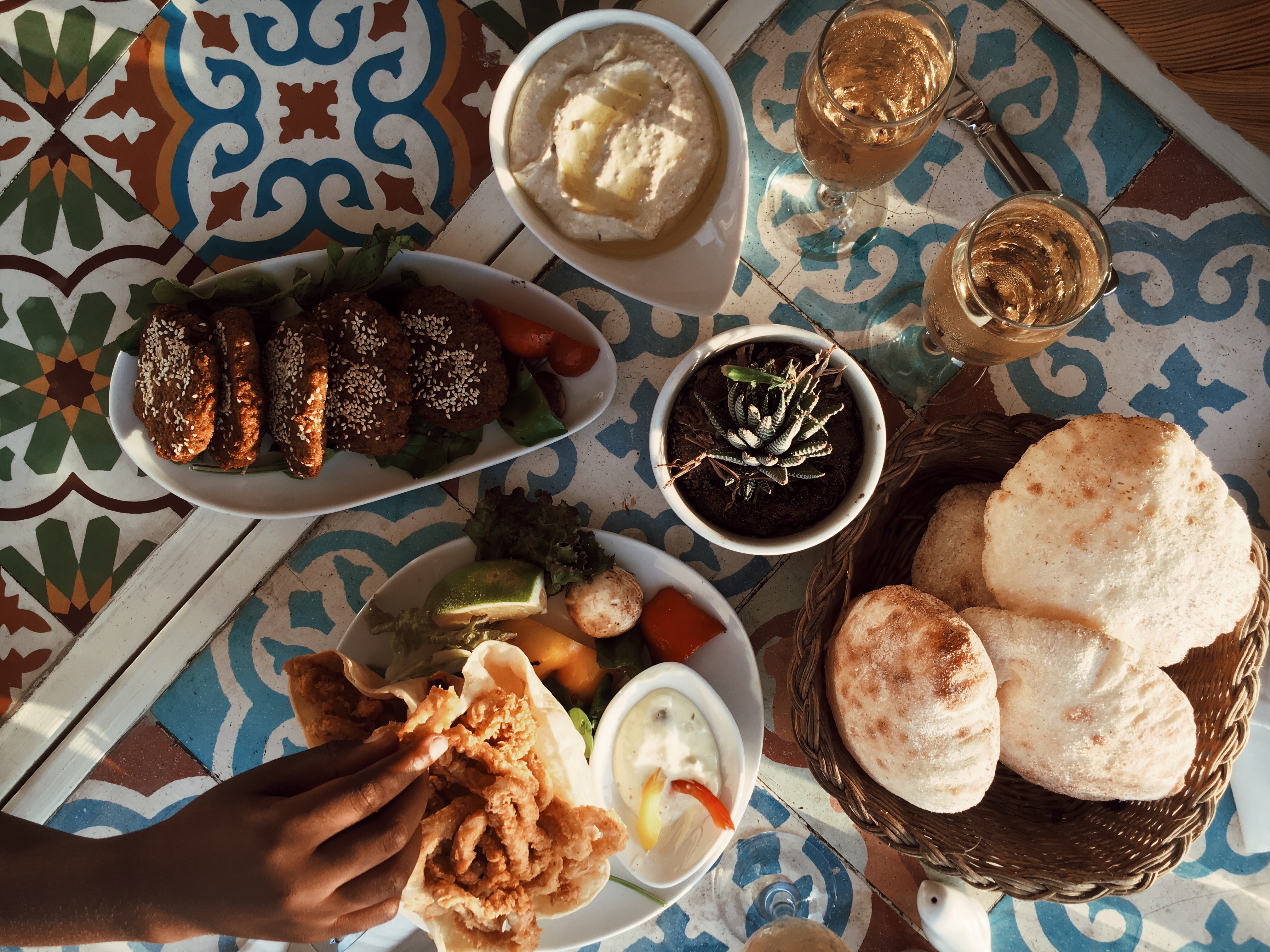 Avoid December
I get it, everyone is going to be in Ghana in December. You want the chance to rub shoulders with your favourite celebrities at Afrochella, find your Ghanaian boo who lives in the UK and is coming home for the holidays, so much vibe packed into a two week period - you feel like you can't miss it.
I promise, Ghana is lit year round and your pockets will be too if you avoid travelling when hotels and flights will be through the roof. Your next best option - travel to Ghana in August. The Chale Wote festival is happening so you'll still get the global in Ghana vibes with less drama and pain for your purse.
Apply for your visa at least two weeks ahead of your trip
Visa on arrival in Ghana is not a thing for MOST people. Don't be that person hustling in someone's WhatsApp frantically trying to see if it's true days before your departure.
Send that passport off, make sure you've got your yellow fever vaccine card tucked or stapled into your passport and be great. You can see all the rules for who needs a visa and where to apply here.
Where to Stay in Ghana
I personally stay at one of two places in Accra, there are other options that are solid but you can almost find me at the spots below:
Olma Colonial Suites
An oasis in the middle of Osu, Olma is built for you to be super comfortable within its walls. Its 1 and 2 bedroom apartments have internet, comfy bed linens, and plenty of space.
Breakfast is made on site every morning and it is something you don't want to skip - the egg omelettes are bomb! The staff (shoutout to Victoria) is super warm and welcoming you won't want to leave after a week here.
I can't front, I also stay here because it is perfect for the gram. I came here when I first got my drone and you basically couldn't tell me anything for an entire morning.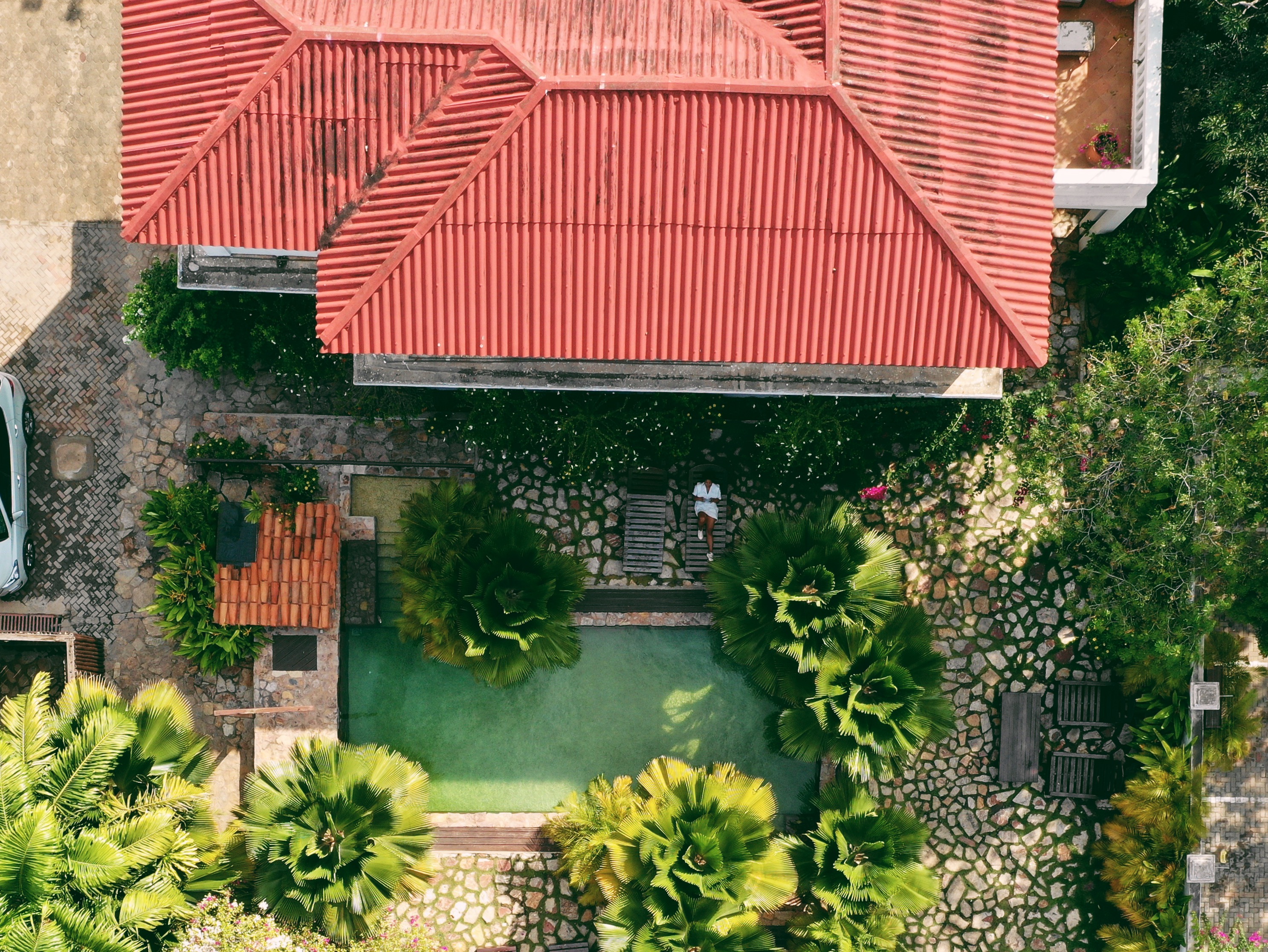 Aerial shot of me probably uploading a new experience while staying at Olma Colonial Suites in Accra
Kempinski Hotel
When I'm balling I stay at the Kempinski. It's just fresh, from Gallery 1957 being housed within its walls to the in-room breakfast that gives me Home Alone Plaza Hotel vibes, it's luxury done well.
I hear the pool is super fly, but I'm always rushing off somewhere and never have time to enjoy it. The food at the restaurant is amazing as is the morning buffet, there's a great wine and spirits collection, and there is always someone interesting in the lobby - you just have to pay attention.
Restaurants and Best Places To Eat In Accra
I LOVE food, if you look at my Instagram you'll notice that most of my instastories are food, flat lays of food, or me talking about food - it's that serious for me. As such here are my picks for where to savour some deliciousness in Accra - I've sorted them by category to help with your cravings.
Ghanaian Food
Asanka Locals
Buka
Living Room
Labadi Beach Hotel (Sunday Brunch)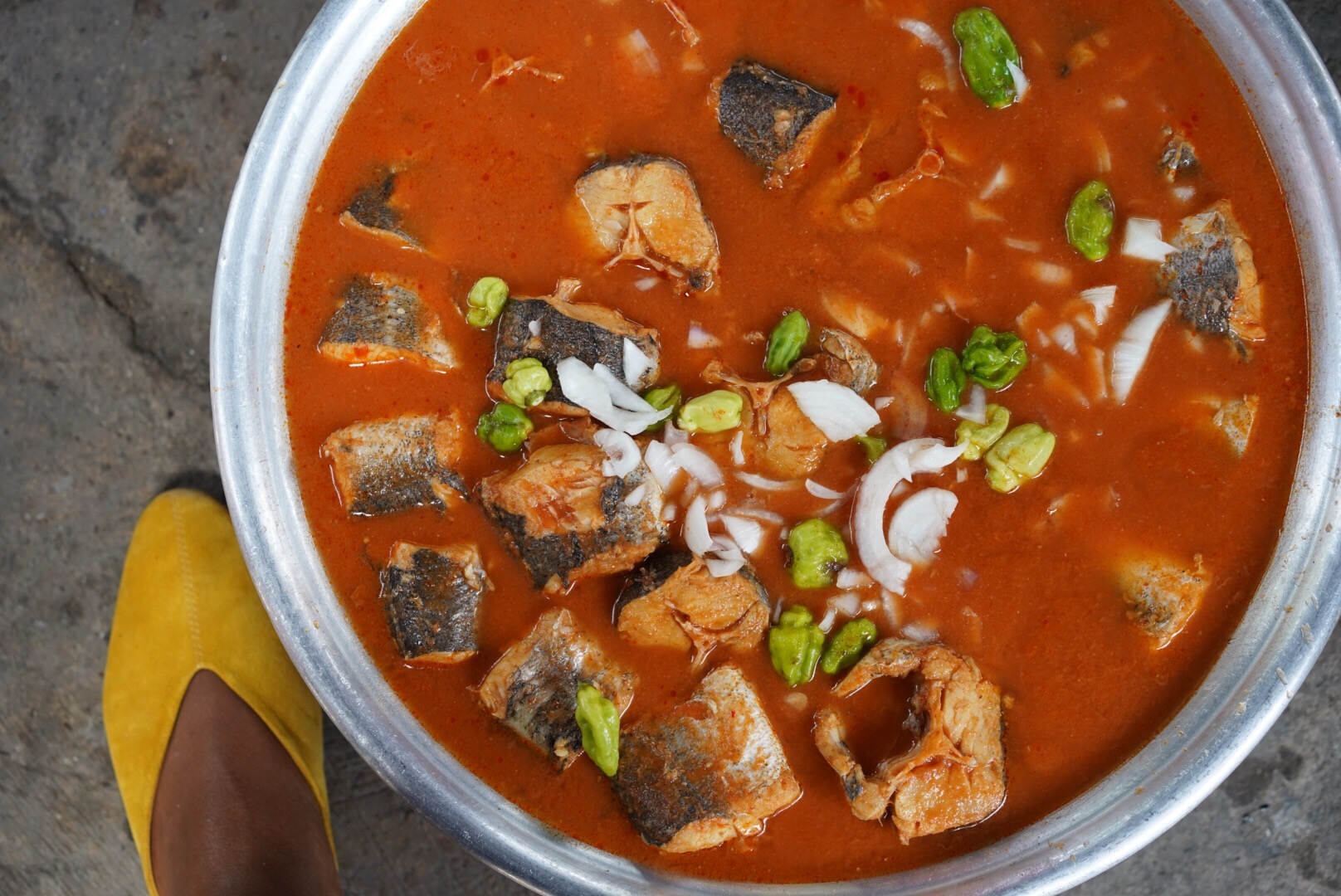 Checking out the light soup on Mukasechic's Osu Street Food Crawl
West African Food
Asian Food (yes there are REALLY good Asian restaurants in Accra)
Noble House
Santoku
Pantita
Tandoor
Global Good Eats
Bistro 22
Urban Grill
La Chaumiere
Cafe Kwae (unlimited guava mimosas at brunch for the win)
Nightlife in Accra
Ghana has surprisingly few nightlife options (in the traditional sense) - but the ones that exist definitely pop off.
These are the spots that I personally have a great time no matter what - for me, this means good looking and interesting people, a solid cocktail or at least good bottle service, and of course great music (which is actually hard to mess up in Ghana).
Front/Back (a private members club)
Carbon (Thursdays)
Twist (Fridays)
Sandbox (Sundays)
In general, Saturdays are usually spent with friends, bar hopping, or otherwise outside of a proper club. The only other tidbit I have is to get someone to take you to the "Amen" place in Osu before you hit the scene. It's a weed-infused drink that is AMAZING and is the perfect warm up to your night if you're into that sort of thing.
Tours and Activities in Accra
Obviously, Tastemakers Africa is in the business of connecting you to super dope tours hosted by super dope people.
I should be impartial but I do have some personal favourites, here they are below:
I really do love all of the experiences on our platform but each of these blows my mind every time I do them.
I hope this guide sheds light on some of the things I personally feel you can't miss on a trip to Ghana if you've got a different opinion on what's the best - you're entitled but changing my mind is unlikely lol. (kidding but not really)