1.

The Orbit
Johannesburg, South Africa | 81 De Korte Street
Any place owned by a Frenchman with wildly crazy hair is definitely worth a spot on our list. The last time we were at Orbit, we caught up with Madala Kunene, known as the King of the Zulu guitar. A giant in South Africa's musical history, Madala filled Orbit's lofty venue to the bring with some people standing the entire time just to catch a glimpse of the legend.
Timelessly cool, Madala is just one of the many acts to grace The Orbit stage. From Afro-Cuban salsa night to local quartet's to international acts like Australia's Black Jesus Experience, the venue packs a world-class experience in its duplex loft space in the centre of the Braamfontein district. If you get there early enough or reserve ahead, you can snag a table in front of the main stage.
There's a patio out back as well where many of the artists enjoy a "smoke" break between sets. The scene is mixed with music connoisseurs from Johannesburg's creative scene, couples, and a few out of towners fortunate enough to get the inside scoop on this place. You can catch a show any night of the week with the weekends featuring the headliners.
Audience Vibe: 3
People are encouraged to be quiet during the performance and clap a bit too reservedly for our taste.
Quality of Performers: 5
The owner and management team do a great job of curating serious musicians.
Sketch Factor: 4
Braamfontein is one of the most up and coming neighbourhoods in Johannesburg downtown district, just don't stray too far from where the main clubs and restaurants are by yourself.
2.

New Afrika Shrine
Lagos, Nigeria | Adeleye Street
A rebuild of Fela Kuti's iconic home of Afrobeat, the New Afrika Shrine is the brainchild of the legend's children. A weekend destination, the shrine is open Thursday - Sunday and packs an atmosphere you'll never forget — as long as you don't listen to your Victoria Island friends who will undoubtedly caution you not to visit.
Femi Kuti plays free on Thursday nights and does a paid show on Sundays. Seun Kuti, said to be most like his iconic father, plays the last Saturday of the month.
Warning, if you're anti ganga — this isn't the place for you. You will most certainly catch a contact upon entry and can chase that with the suya and palm wine made readily available throughout the night.
The Shrine is on the mainland so it is best to roll with a Lagosian friend or two when you go. Overall it's an amazingly good time if you're prepared to move your entire body nonstop.
Audience Vibe: 5
This place is unreal and everyone is high on "life".
Quality of Performers: 5
Femi Kuti alone makes this place topnotch for lovers of the afrobeat sound.
Sketch Factor: 2
Anything off the island in Lagos deserves a special kind of caution. We're not saying it's inherently an issue, it's just a huge crowd so don't bring anything fancy.
3.

Vent
Cairo, Egypt | 6 Kasr El Nil St.
North Africa's contemporary music scene doesn't get enough love but Vent's bar + art + culture concept should change that in the near future. Located on Qasr El Nil Street, right next to Qasr El-Nil Theatre in Downtown Cairo, Vent is an indie alternative to the Cairo club scene dominated by Europop and electronica.
You can catch anything from live music, film screenings, to plays at the space whose interior is everything an underground spot should be: intense lights, dark mellow vibes, poster-decorated walls, and old-tile clad floors giving you old school Cairo with new school flavour.
Their bar is decent with a range of beers and mixed drinks (not great but OK), there is even some food but we warn you in advance that beyond the nachos it's nothing to write home about.
Audience Vibe: 3
The mecca for Cairo hipsters, people are a tad "too cool for school" but with the cheap beer downstairs they usually loosen up.
Quality of Performers: 3
Definitely, some of the best in Cairo with some international DJ's sprinkled in.
Sketch Factor: 5
This place is in the heart of Cairo, no worries here.
4.

Choices Club
Nairobi, Kenya | Baricho Rd.
On any given Thursday in Nairobi, the indie music loving crowds of Kenya's capital city descend on Choices Club to get a glimpse of emerging artists who could be the next Just A Band. Thursday Night Live, a weekly event curated by Abdi Rashid Jibril, has featured over 80 different artists in genres that range from acoustic jazz, fusion, Afro and roots music.
In a music scene dominated by tunes from the US, Nigeria, and South Africa Choices Thursday Night Live gives Kenyans an opportunity to hear and define their own voice in a burgeoning East African music scene. Both veterans and upcoming musicians have graced the stage including Suzanna Owiyo, Sauti Sol, and Just a Band, to name a few.
The vibe at Choices on a Thursday feels a bit like MTV Unplugged the African edition, depending on the act the tempo might change but the essence of a good time remains the same.
Audience Vibe: 5
Nairobi was just ranked the entertainment capital of the continent and venues like Choices Club explain why.
Quality of Performers: 5
Jibril takes his role as curator quite seriously and as the father of the movement towards the original sound he selects the best of the best.
Sketch Factor: 5
Nestled between Wilson airport and Nairobi's Golf Club this is about as safe as you get, plus Uber will take you there.
5.

l'Espace Bouna
Bamako, Mali | Hamdalay ACI 2000
Mali is growing its reputation as a breeding ground of amazing musicians. From its, Festival Au Desert growing in popularity among music chasing travellers to Amadou & Mariam's remix album featuring K'Naan, Theophilus London, and Akon the authentic, soul-stirring vibes of Malian sounds are even better heard at its source.
Bamako might not be the highest on your bucket list of travel destinations but if you find yourself on a work trip in this city, you must steal away to check out the music scene and there is no better place than l'Espace Bouna.
On Friday's you'll usually find Toumani Diabaté, the great contemporary master of the kora; Saturdays are for the Super Rail Band and Habib Koité, a renowned Mande singer; and Sundays are filled with Afro-salsa beats Taras.
Audience Vibe: 3
Bamako is not necessarily the epicentre of cosmopolitan Africa so this place (and it's satin) can feel a bit old school.
Quality of Performers: 5
There is a reason that Mali is globally renowned for its music and can turn the middle of the desert into an epic party.
Sketch Factor: 3.5
The venue is located near Bamako's old airport, it's easy to get to, Bamako is more like a crowded village and less like a metropolis.
6.

Book Café
Harare, Zimbabwe
|
139 Samora Machel crn 6th Street
Known as the beating heart of culture in Zimbabwe's capital the Book Café is Harare's arts hub, hosting live music, poetry, comedy, discussions, workshops and book launches six nights a week. Re-opened in 2012, live performances include everything from spoken word, poetry slams, stand-up comedy, literary readings, drama and music from traditional mbira to blues, jazz, hip-hop, and punk.
Known as a right of passage for Zimbabwean musicians, the venue has helped launch the careers of Mokoomba, Victor Kunonga, Hope Masike, Comrade Fatso, Chikwata 263 and many others.
Audience Vibe: 4
Harareans are an interesting, fashionable bunch and you'll find a mix of young professionals, expats, and music lovers at the venue.
Quality of Performers: 4
The focus on local musicians is really something special.
Sketch Factor: 4
Harare is a safe city, expansive roads, taxis are easy to find and everyone knows this place.
7.

Mama's Kitchen
Addis, Ababa | Behind Bole Medhanialen Church
Ethio-Jazz was big on the indie music scene of the 1970s but contemporary artists have struggled to reach the same level of recognition. Enter Mama's Kitchen, an Ethio-Italian fusion restaurant where you can get Injera, Brick-Oven Pizza, and the most amazing live music all under one roof. Monday nights are the biggest with its infamous Jam Session, backed by the Nubian Ark musicians.
It is packed with connoisseurs and artists who take turns to get the audience involved. Each night of the week hosts a different feature and the weekend only continues to bring it.
Friday's are reserved for the Blu Vibes Band, Saturdays see the Lubac Acoustic Band, and Sundays feature up and coming pianist Samuel Yirga and his jazz band.
Audience Vibe: 4
Mondays' jam sessions are not to be missed with Sunday nights coming a close second.
Quality of Performers: 4
The best talent in the city.
Sketch Factor: 4
A bit difficult to find but once you're in there it's good times.
8.

Bassline
Johannesburg, South Africa | 10 Henry Nxumalo Street
The setup alone makes Bassline one of our favourites on this list. Located in the up and coming Newtown neighbourhood of Johannesburg. We had the chance to check this place out on its infamous reggae night were a combination of artist performances and DJ's made you wonder if you were in Kingston, Brooklyn, or Johannesburg.
The stage is surrounded by amphitheatre style seating, although no one sits down once things really get going. In front of the seating is an area perfect for a mosh pit or dance off depending on the night. The stairways on both sides of the pit are lined with lovers (and friends) getting their dance on and there is plenty of spillover into a pretty large bar and adjacent seating area. These legendary "Ragga nights" happen every day of the week but you can find a good time almost any day you visit. Since opening its Newtown space in 2004, Bassline has developed young stars in South Africa's kwaito, hip-hop, rock and afro-pop scenes, such as Parlotones, Freshlyground, and Thandiswa Mazwai.
Audience Vibe: 5
Epic times to be had.
Quality of Performers: 3
Some are awesome, some are bad imitations, it's more about the vibe.
Sketch Factor: 2
Newtown is still developing, you'll need some homies if you go.
9. Republic Bar
Accra, Ghana | Asafoatse Tempong St. Osu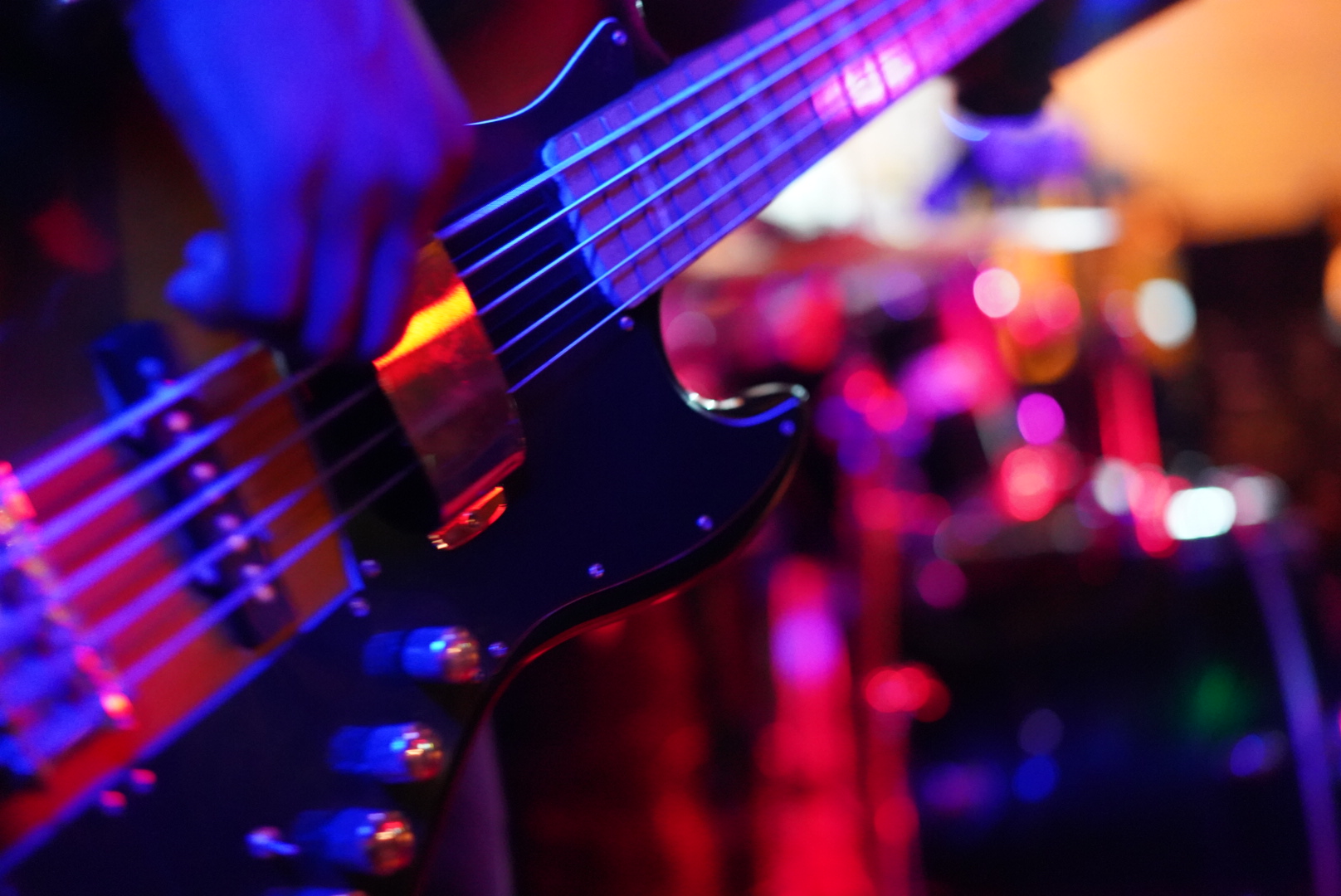 Let's start with Akpateshie, the locally brewed spirit that has helped make Republic Bar an institution in Accra. Mixed with ice, natural fruit juices like Sobolo and Lime, slushie based alcoholic drinks like the "Kokoroko" already set the vibes for a place that's perfect for a good time.
A mix of local and international acts grace Republic's intimate stage and cater to an eclectic audience ready to be apart of the show.
Audience Vibe: 5
Epic times to be had.
Quality of Performers: 5
Local and international acts rarely disappoint.
Sketch Factor: 0
Republic is in Osu, the main tourist district and everyone loves the owners
Honourable Mentions
We couldn't include every place on the list but 233 Club in Accra, Ghana, Terra Kulture in Lagos, Nigeria, and Jazz Ville in Kampala, Uganda also deserve a look. Know somewhere incredible that we've missed? Keep us in the loop in the comments.