Brooklyn We Go Hard: The Biggie Smalls Tour
New York, United States
Why you should do this
Christopher Wallace aka the Notorious B.I.G. aka Biggie Smalls is synonomous with Brooklyn.This cross-Brooklyn stomp that visits many of the hotspots where Biggie Smalls learned to craft his remarkable freestyle rap and rhymes. Sites include George Westinghouse HS, which is where Christopher Wallace went to school along with Busta Rhymes and Jay-Z. Across the street from Westinghouse is Albee Square, where Biggie rapped about Albee as well as lots of other rappers name-check it in their songs, including Lil Kim. Then it's over to Juniors, with their world-famous cheesecake, which is undoubtedly one of the hotspots where Biggie earned his nickname. That's a signed photo him with Jay-Z on the wall. Farther along in Fort Greene is Habana Outpost, featuring an enormous, posthumous Comandante Biggie! mural, painted by legendary graffiti and street artist Lee Quinones. There's Brooklyn's Queen of All Saints School, the Country House Diner, which was a local favorite of Biggie's, The Golden Krust Jamaican patty bakery, the DLC Comprehensive Medical Center, formerly the Mayfair Grocery and other famous locations where Biggie hustled.
Meet Your Curator
We are knowledgeable and passionate New Yorkers who are proud to share colorful stories about our city's culture, diversity, energy, and strength on our private tours of NYC.
Ask Levy's a Question About This Experience
Brooklyn We Go Hard: The Biggie Smalls Tour
New York, United States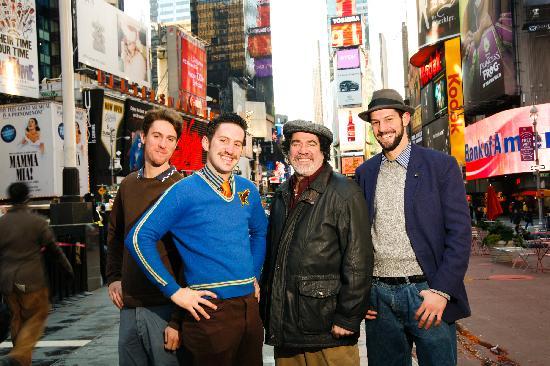 Good to know
CANCELLATION POLICY
Any experience can be cancelled and refunded within 24 hours of purchase.
COMMUNICATION + SUPPORT
Direct communication with your curator is encouraged and available in your dashboard. If you can't reach your curator or have other issues contact the local community manager.
Still planning your trip to New York? Request an Experience Expert.
Our experts can help you choose the right experiences and give advice on your trip free of charge
More Like This In New York